BOTOX | ANTI-AGING TREATMENTS IN WINDSOR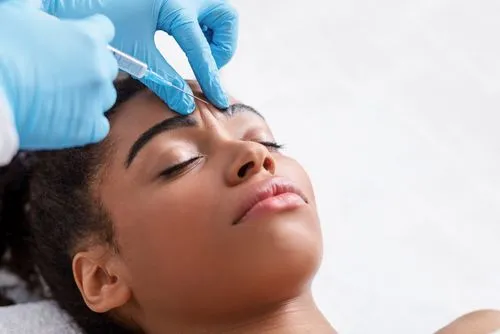 Botox is the most popular cosmetic treatment. Millions of men and women utilize this cosmetic injection to look younger, diminish fine lines and wrinkles, and rejuvenate their appearance.
Botox is an anti-aging treatment. This injection smooths out wrinkles that form around the eyes, brow, and forehead. Treatments are entirely safe, FDA cleared, virtually painless, and require no downtime. When a skilled professional administers Botox, the results are dramatic, natural-looking, and long-lasting.
Windsor Dermatology has an entire staff of exceptional injection specialists trained to administer this anti-aging treatment in the most effective manner. Our specialists help countless patients achieve a rejuvenated appearance in just one treatment. Learn more about our Botox treatments by scheduling a complimentary consultation at Windsor Dermatology. Call us at 609-443-4500 to schedule yours now.
BENEFITS OF BOTOX AT WINDSOR DERMATOLOGY
470+ clinical studies back the safety and efficiency
FDA cleared
Most popular cosmetic treatment available
Look rejuvenated and younger instantly
Natural, lasting results
Quick treatments
No downtime required
BOTOX BEFORE AND AFTER*
Botox before and after pictures show the dramatic anti-aging effects possible with this treatment. As with any cosmetic procedure, results will vary per patient.* However, when a highly trained, skilled professional performs this cosmetic injection, each patient can expect significant anti-aging results.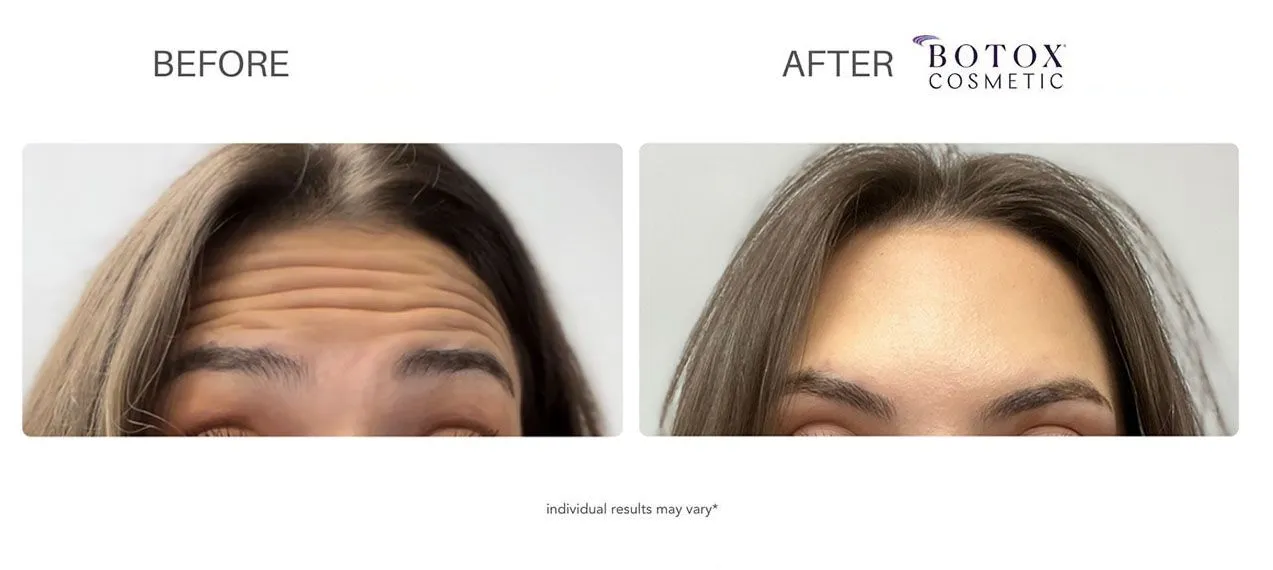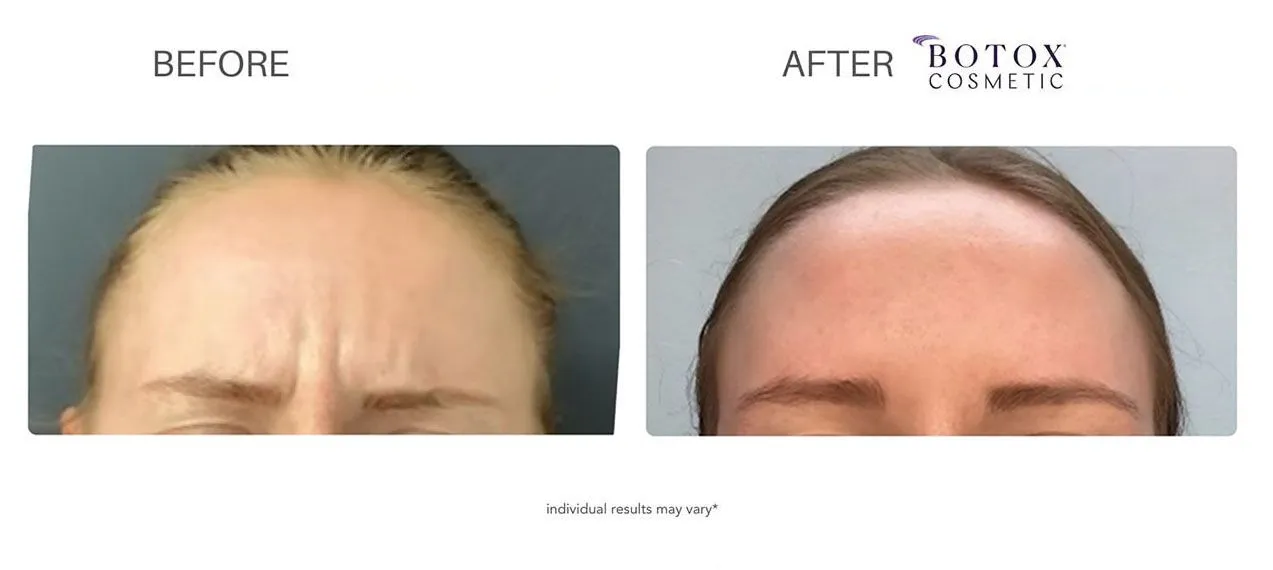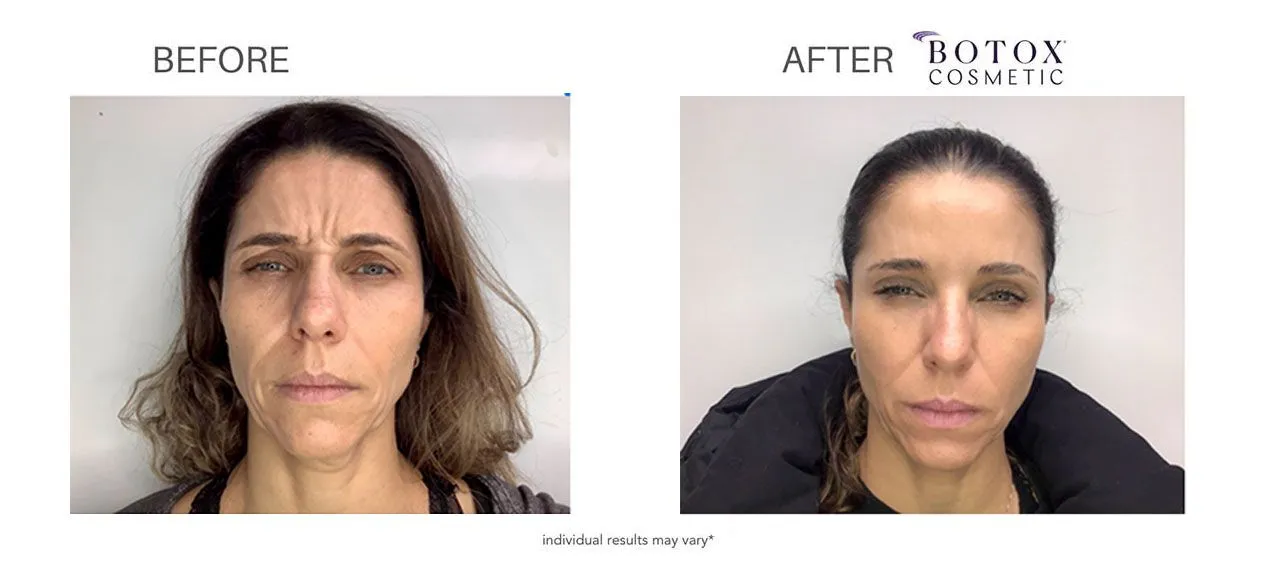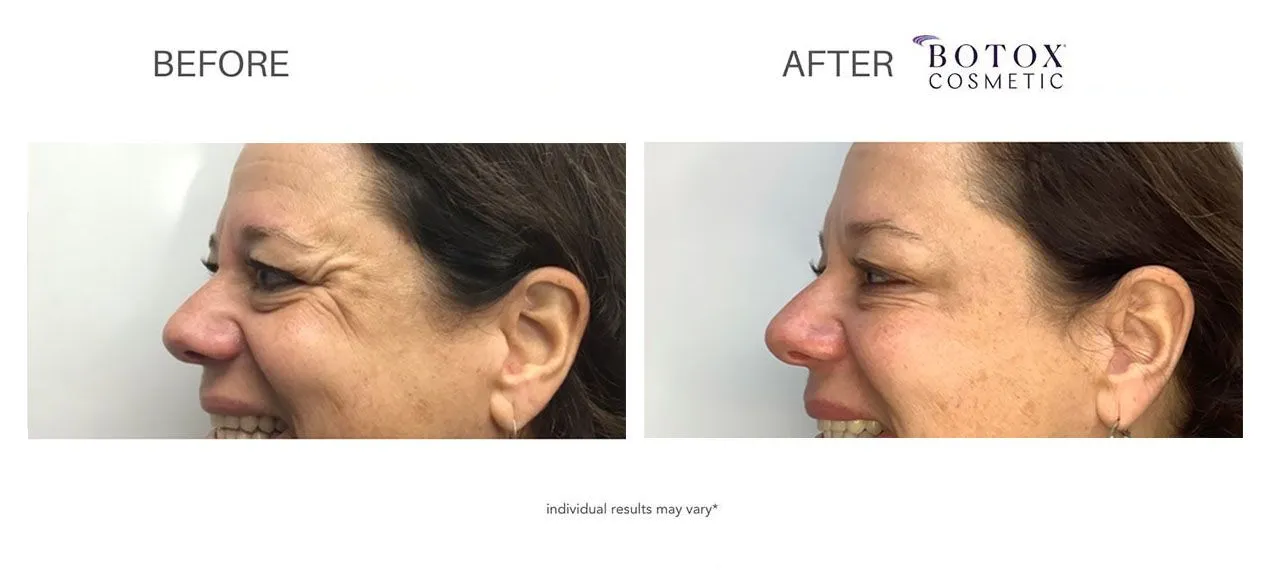 WHAT ARE DYNAMIC WRINKLES?
Before you can fully understand Botox injections, you need to identify the types of fine lines and wrinkles that Botox targets. More commonly known as expression lines, dynamic wrinkles are deep grooves in the skin created when muscles perform the same action repeatedly. Such movements include smiling, squinting, or even frowning. Dynamic wrinkles tend to become more prominent starting in your 30s and accumulate in overly expressive facial areas like the eyes, brows, and forehead.
HOW DOES BOTOX WORK?
Botox is a neuromodulator derived from Botulinum Toxin Type A. Botox works by blowing the signals that tell a muscle to contract temporarily. When Botox is injected into the muscle responsible for creating the dynamic wrinkle, the muscle relaxes, allowing it to lengthen. This elongated muscle allows the overlying expression line to smooth out and diminish the appearance of any wrinkles.
With Botox injections, crow's feet, forehead wrinkles, and frown lines soften. This effect makes your appearance younger with a more rejuvenated appearance.
HOW MUCH DOES BOTOX COST?
Botox cost will vary per patient. The total price of cosmetic injections depends on several factors such as the number of treatment areas, the number of injections required, and if the Botox is used with any other treatments such as Hyaluronic acid fillers like Juvéderm.
During your free consultation with Windsor Dermatology, you can discuss Botox prices in detail with one of our knowledgeable injection specialists. If this cosmetic injection is suitable for you, our staff customizes the perfect treatment plan that fits your budget and provides you with the transformative anti-aging results you desire.
HOW LONG DO BOTOX RESULTS LAST?
The majority of Botox patients begin to see results within 24 to 72 hours after their injection. These patients enjoy the anti-aging effects of Botox for 3 to 5 months afterward. As with any cosmetic treatment, individual results will vary.* In addition to reducing fine lines and wrinkles appear, recent studies show that Botox can prevent expression lines from forming when regular treatments are administered. This makes Botox an excellent choice for young adults in their 20s and 30s who want to prevent the signs of aging and prolong their youthful appearance.
BOTOX FOR SWEATING
Hyperhidrosis is a medical condition causing abnormal sweating in specific individuals. Botox injections have been FDA approved for people who struggle with this medical condition when regular antiperspirants fail. The cosmetic injection alleviated the excessive sweating by blocking the nerves responsible for activating sweat glands. Botox essentially paralyzes the overactive glands and reduces excessive sweating.
If you struggle with Hyperhidrosis and want to explore the possibility of Botox injections to alleviate the sweating, contact Windsor Dermatology.
IS BOTOX SAFE?
With more than 470 clinical studies and a long successful track record, Botox is one of the safest, most studied treatments in all of medicine. This cosmetic injection also comes with FDA clearance, further strengthening its safety and efficiency.
BOTOX RISKS AND SIDE EFFECTS
Botox side effects are exceedingly rare, especially when your injections are done at a reputable medical spa by skilled professionals. During your consultation at Windsor Dermatology, Botox side effects will be explained in significant detail.
BOTOX NEAR ME
If you live in the Windsor, NJ area and want to learn more about the anti-aging effects of Botox, contact Windsor Dermatology. We are a premier Botox provider with an exceptional staff of professionals. We help our patients achieve a more youthful, rejuvenated appearance at the right price.
Call us at (609) 443-4500 to schedule your consultation or reach out to us online.
Sources:
¹ "Botulinum toxin injection for facial wrinkles." Published in American Family Physician. Link
² "When Is "Too Early" Too Early to Start Cosmetic Procedures?" Published in Jama Dermatology. Link.
³ "Long-term effects of botulinum toxin type A (Botox) on facial lines: a comparison in identical twins." Published in Archives of Facial Plastic Surgery. Link
⁴ "Treating glabellar lines with botulinum toxin type A-hemagglutinin complex: a review of the science, the clinical data, and patient satisfaction." Published in Clinical Interventions in Aging. Link.
⁵ "An Evaluation of Use of Botulinum Toxin Type A in the Management of Dynamic Forehead Wrinkles – A Clinical Study." Published in Clinical and Diagnostic Research. Link.